Tokyo, 6 July 2022 (TDI): On 4 July, the Minister for Foreign Affairs of Japan Hayashi Yoshimasa met with the Minister of Foreign Affairs and International Cooperation of the Republic of Honduras Eduardo Enrique Reina García.
Hayashi welcomed Reina's visit to Japan. Hayashi expressed the desire to further strengthen the relations between Japan and Honduras. The Japanese Minister also remarked on the important bond between both countries.
According to Hayashi, Japan and Honduras are important partners that share fundamental values like democracy and freedom. Foreign Minister Reina expressed the importance that Honduras gives to bilateral relations with Japan. Reina also hoped to further strengthen these relations.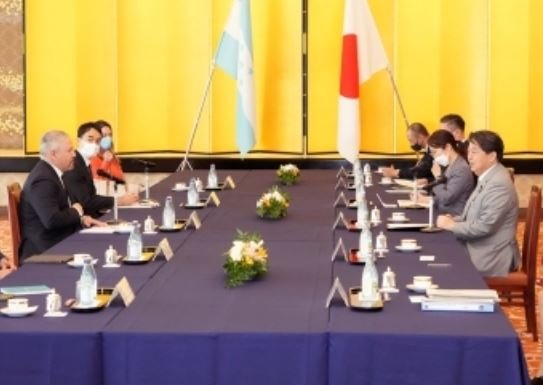 Bilateral relations
Foreign Minister Hayashi expressed expectations for cooperation between the two countries. Hayashi highlighted the importance of emergency support loans and aid from Japan for bridge reconstruction to Honduras.
According to Hayashi, those funds will contribute to the recovery from covid-19, smooth the logistic situation in Central America; and also promote economic development in Honduras.
In addition, the Foreign Minister welcomed the cooperation between Japan and Honduras in the space sector. A microsatellite of the Central American Integration System will be released from the Japanese Experiment Module "Kibo" of the International Space Station.
In response, Foreign Minister Reina appreciated the assistance of Japan. Reina also asked for assistance in the sectors of health, education, infrastructure, and migrant measures.
Cooperation in the international arena and regional affairs
Foreign Ministers agreed that they should support the rule of law and reject the rule of force regarding Ukraine. The Ministers reaffirmed the need for both to work closely to address international issues.
According to Reina and Hayashi; the cooperation of their countries included issues like the UN reform. In the UN reform, they considered necessary the reform of the Security Council and also strengthen the functions of the UN.
They also exchanged their opinions regarding the situation in East Asia. The Ministers also discussed the situation in the Caribbean and Latin America. Hayashi and Reina agreed that both nations need continuous coordination to address these issues.