Herat, 19 October 2023 (TDI): The Herat Earthquake Response Plan, spanning from October 2023 to March 2024, is a comprehensive initiative requiring approximately $93.6 million to provide vital assistance to 114,000 individuals impacted by earthquakes in Herat.
The urgency of this plan is due to the pressing and time-sensitive needs of the most vulnerable populations during the harsh winter months in the earthquake-affected regions.
Immediately following the earthquakes, affected families face a critical need for temporary shelter, food, cash assistance, safe water, WASH supplies, emergency healthcare, and protection.
With the winter season approaching rapidly, families will require transitional shelter, winter clothing, warm blankets, and heating materials to protect them from the extreme cold.
The objectives and financial requirements of this response plan will be integrated into the 2023 Humanitarian Response Plan (HRP), which already accommodates the needs of 150,000 people affected by natural disasters in the same year.
Notably, prior to the earthquakes, 26,000 individuals had already been impacted by floods in 2023.
Any additional requirements that arise will be included in the upcoming 2024 HRP. The response plan also recognizes the essential role of basic human needs actors in providing longer-term recovery support to affected households.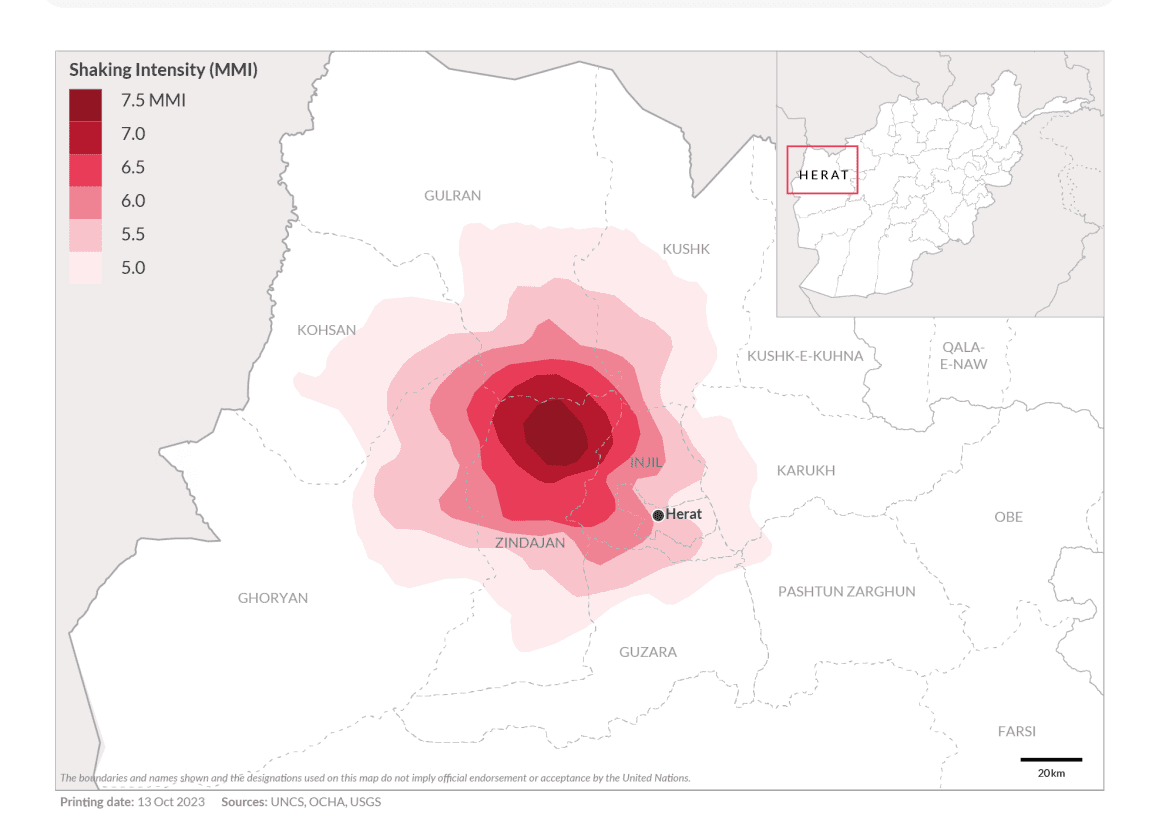 Between October 7 and 15, four powerful earthquakes with a magnitude of 6.3 struck Herat Province, impacting 1.6 million people and leaving at least 114,000 in dire need of humanitarian assistance.
Initial assessments reveal that the first two earthquakes on October 7 and 11 resulted in 1,480 fatalities and 1,950 injuries, with approximately 289 villages significantly affected.
The most recent earthquake on October 15 affected around 30 new villages across two districts, with ongoing assessments.
Presently, nearly 43,400 individuals across six districts have been directly affected by these earthquakes, with Injil and Zinjadin districts suffering the most significant impact.
Over 3,330 homes have been destroyed, and an estimated 21,300 buildings have sustained damage. Families are now living in open spaces, makeshift shelters, or informal settlements, exposing them to weather-related and health hazards.
These earthquakes have struck communities already grappling with prolonged conflict and underdevelopment, rendering them less resilient to cope with multiple concurrent shocks.
The timing is critical as it aligns with Afghanistan's lean season and precedes the winter months when food resources are most limited. Damage to water and sanitation facilities raises concerns about disease outbreaks, particularly acute watery diarrhea (AWD).
Immediate action is needed to detect and prevent the spread of AWD and other infectious diseases.
Children's education has been disrupted due to damage to schools and community-based educational facilities. Protection support, particularly for vulnerable groups, is essential.
Humanitarian partners are collaborating with de-facto authorities, including the Provincial Governor, the Ministry of Economy, the Ministry of Refugees and Repatriation, and the Afghanistan National Disaster Management Authority (ANDMA).
Relief items such as emergency shelter, household basics, trauma care, medical referrals, mental health support, and nutrition services have been provided. Furthermore, water, sanitation, hygiene kits, food supplies, and cash assistance have been distributed.
As part of the inter-agency response, UNHCR is working alongside other UN agencies under OCHA's leadership.
In Herat, UNHCR is actively cooperating with eight local organizations to ensure effective relief efforts and support for the affected population.
These local organizations include Ansari Rehabilitation, Association for Afghanistan (ARAA), Coordination of Humanitarian Assistance (CHA), Women for Afghan Women (WAW), Agency for Humanitarian and Development Assistance for Afghanistan (AHDAA).
The Welfare Association for the Development of Afghanistan (WADAN), Organization for Social and Economic Development (OSED), Afghan Women Skills Development Center (AWSDC), and Women's Activities and Social Services Association (WASSA).