Manama, June 20, 2022 (TDI): In a recent luncheon organized by Bahrain British Business Forum, BBBF, Industry and commerce minister Zayed Alzayani of Bahrain talked about Gulf and UK trade ties.
The Minister highlighted the importance of bilateral trade and the relationship between the two countries to further negotiate and build up trade relations. These relations will benefit both countries' companies and increase economic growth.
The Minister noted that the UK has contributed significantly to global trade and is a crucial investment partner. He also said that the trade relations between the two countries have witnessed incredible growth in the public and private sectors.
Moreover, the Minister also brought attention to Bahrain's post-pandemic action and regaining plan, focusing on strengthening its long-term economic competitiveness. Meanwhile, it also focuses on achieving sustainable goals in key specific areas such as the labor market, regulatory reforms, fiscal balance plans, etc.
In addition, the Minister also talked about the country's new 10-year golden residency visa plan. This plan allows expatriates, especially foreign investors, an opportunity to become a permanent resident of the country. He further elaborated that this will have a positive impact. Moreover, it will encourage more investors to come for investment purposes that will have far-reaching economic benefits for both parties.
Furthermore, in his address, the minister also brought attention to Sijilat 3.0, an improved version of the business licensing system. This system connects with all electronic systems. It will provide much ease and development to the relevant government bodies.
The event took place at Diplomat Radisson Blue Hotel, Residence, and Spa. British ambassador Roderick Drummond along with other key officials attended the event.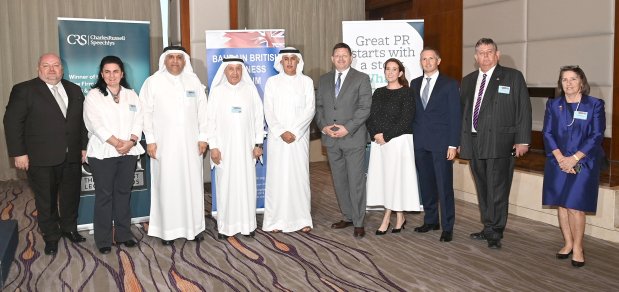 Gulf-Uk trade ties:
One of the largest trading partners of the United Kingdom is the Gulf Cooperation Council (GCC). It is made up of the Kingdom of Bahrain, the State of Kuwait, the Sultanate of Oman, the State of Qatar, the Kingdom of Saudi Arabia, and the United Arab Emirates.
As of 2020, the value of all bilateral commerce exceeded £30 billion.
The UK and the GCC are united in their desire for quick development. This will help in realizing the market access prospects. It will also ensure that a tighter and stronger business and financial partnership becomes a reality.