Since its inception, the foreign policy of Pakistan has witnessed fluctuating trends that are impacted heavily by the internal socio-political contours and regions' hierarchical distribution of power.
Pakistan's Foreign Policy is tainted with a security dilemma that seeks to protect, promote and pursue its regional interests.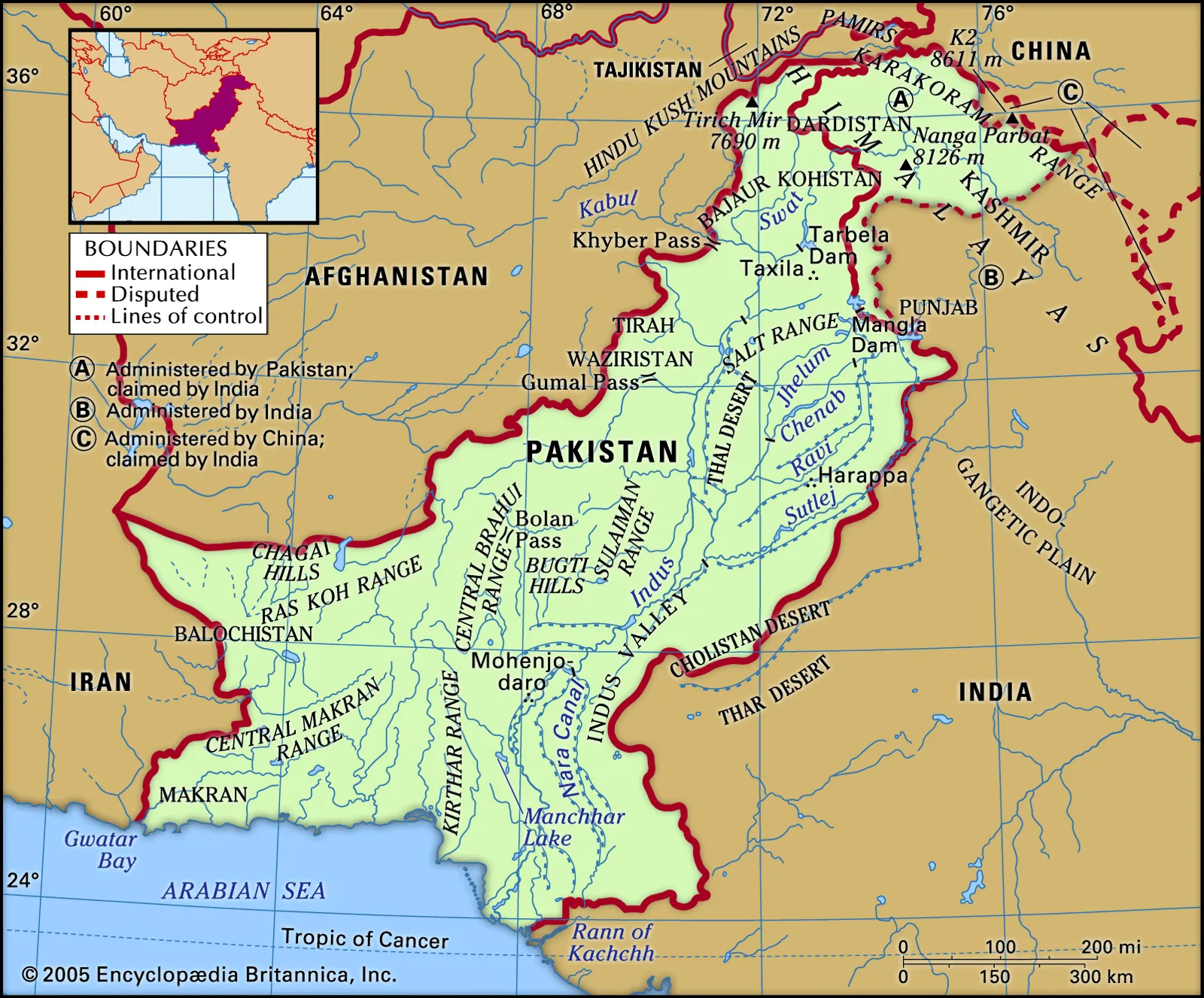 Pakistan's policy pursuit is characterized by the perception of fears, shaping the regional environment, and achieving power parity, Pakistan's immediate neighbors include India, China, and Afghanistan.
Pakistan and India exhibit divergent behaviors towards each other owing to their involvement in multilateral conflicts.
Pakistan's relationship with Afghanistan is marked by fluctuating contours, indicating an inconsistent and dynamic nature.
Conversely, Pakistan and China demonstrate convergent tones, implying a shared perspective or approach toward certain issues; this convergence suggests that the two countries are aligned on these matters.
In the ever-changing geopolitical realm, this region holds significant importance. The world is transitioning from a unipolar to a multipolar stage in this scenario, and every state is striving for its survival.
Pakistan collaborates with China to counter Indian influences in Afghanistan and the region. Simultaneously, China is pursuing a strategic partnership with Pakistan to minimize India's dominance in the South Asian region.
I- Pakistan and India
Pakistan and India have been engaged in a longstanding rivalry since 1947, each with its own unique identity and narrative. Pakistan was established on ideological foundations, while India has adopted a constitutionally secular approach.
Both countries have been striving for strategic parity, resulting in several conventional wars, including those fought in 1948, 1965, and 1971, and the Kargil War in 1999.
Additionally, they have been grappling with various disputes, including territorial and water conflicts, nuclear arms races, geopolitical struggles, and cross-border terrorism. Of these, the Kashmir issue remains a particularly contentious point of disagreement.
The bilateral relations between the two states have remained strained for the most part. Nevertheless, several diplomatic mechanisms have been employed to normalize these relations, such as the Agra Summit in 2001.
However, deep mutual mistrust has resulted in further divergence both states are currently entangled in a security dilemma, exacerbated by events such as the Mumbai attacks in 2008, the Uri Attack in 2016, the revocation of Articles 370 and 35A of the Indian Constitution in 2019, and the Balakot Crisis in 2021.
These events have thwarted diplomatic engagements on both sides and undermined efforts toward peace.
The enduring rivalry, based on threat perceptions, has also significantly impacted the socio-economic fabric of both states. Notably, Pakistan and India have low indexes in human development. According to the Human Development Index (2022), Pakistan stands at 161, while India stands at 132. This highlights the priorities of both states.
Significance of Convergence for both states
Hydro-Politics
India is an upper riparian state, while Pakistan is a lower riparian state. The Indus Water Treaty (IWT) outlined the water division mechanism between both countries. However, India has violated this treaty several times by constructing dams like Kishanganga and the Shahpur-Kandi project. Similarly, India has water conflicts with its immediate neighbors, Nepal and Bhutan.
Resolving these issues is crucial because water scarcity can lead to military confrontation in the region, necessitating revisions in the IWT. It can lead to the loss of lives, destruction of infrastructure, and aggravate tensions between the two countries. It can also harm regional stability and security and can even escalate into a larger conflict with other countries getting involved.
Therefore, resolving water-related issues peacefully and in dialogue is more important than resorting to military options.
Nuclear Arms Control
In the context of nuclear arms control, Pakistan-Indian Nuclear Diplomacy is necessary. The aggressive nuclear posture of both countries is dangerous for the region.
According to the Stockholm International Peace Research Institute (SIPRI) 2022 report, Pakistan and India continuously increase their nuclear warheads, which diverges them from consensus building.
Both countries should sign the Non-Nuclear Proliferation Treaty (NPT) to control their armament stockpiles and resolve socio-economic issues.
Pakistan needs to acknowledge that the relative power of India is increasing in the region.
It has a strategic nuclear agreement with the US. Moreover, it is an active member of the Quadrilateral Security Dialogue and has strong nuclear diplomacy with Britain, France, Germany, and Russia.
Similarly, India's recognition of the strategic alliance between Pakistan and China can help improve Pakistan's security situation.
By acknowledging China's role as a strategic ally of Pakistan, India may become more willing to engage in constructive dialogue with Pakistan to address their mutual security concerns.
This could potentially lead to a reduction in India's aggressive nuclear posture towards Pakistan, reducing tensions between the two countries and creating a more stable security environment in the region.
Territorial Conflicts
Pakistan and India have territorial conflicts over Kashmir, Siachen, and Sir Creek. Kashmir is the major source of contention between the two countries; resolving this conflict will reduce the threat perception on both sides.
The United Nations Security Council (UNSC's) resolution has lost its essence due to the revocation of Articles 370 and 35A.
Resolving territorial conflicts like Kashmir can lead to peace by reducing threat perception, building trust, reducing military spending, and improving economic relations.
However, while it is essential to work toward resolving the conflict to achieve lasting peace and stability in the region, it is not an easy task. It requires political will, diplomacy, and compromise from both sides.
Trade and Economic Ties
Trade and economic relations between the two countries have suffered due to enduring conflicts.
In response to the Pulwama attack in 2019, India withdrew the status of Most Favored Nation (MFN) to Pakistan.
Similarly, Pakistan suspended trade relations with India in 2019 after India revoked the special status of Jammu and Kashmir.
According to the World Bank Report, India-Pakistan has a trade potential from $2 billion to $37 billion, but with deferred trade relations, both countries are facing a loss of $4.2 million monthly. The import of vegetables from India has negatively impacted people in Pakistan, as inflation has exceeded 30 percent.
Therefore, both countries must resume trade and economic ties. Doing so could have significant economic and political benefits for both countries and help reduce the negative impacts of enduring conflicts on their people.
The way forward
Both neighboring countries must resume diplomatic channels, and there is a dire need for the world community to come forward and devise a new mechanism to solve this crisis.
In today's interconnected and interdependent world, survival depends on smooth relations. Resolving issues between both countries would help redefine new entanglements, and renewed ties would prove productive for both countries and the entire region.
In the incident of the Pulwama attack in 2019, Pakistan showed friendly gestures by returning Indian military personnel, and the devastating floods that Pakistan is enduring have helped resume "Twitter Diplomacy." In August 2022, Indian Prime Minister Narendra Modi showed hope for restoring normalcy, and in response, Pakistani Prime Minister Shahbaz Sharif paid his regards.
Saddened to see the devastation caused by the floods in Pakistan. We extend our heartfelt condolences to the families of the victims, the injured and all those affected by this natural calamity and hope for an early restoration of normalcy.

— Narendra Modi (@narendramodi) August 29, 2022
I thank 🇮🇳 PM Narendra Modi @narendramodi for condolences over the human & material losses caused by floods. With their characteristic resilience the people of 🇵🇰 shall, InshaAllah, overcome the adverse effects of this natural calamity & rebuild their lives and communities.

— Shehbaz Sharif (@CMShehbaz) August 31, 2022
Diplomats on both sides have engaged in talks for humanitarian assistance. However, Islamabad refused aid relief; this happened because of the strong public opinion on the Kashmir issue.
In this context, it is important to note that the strong public opinions and historical grievances on both sides can be huge obstacles to mending ties. Still, it can be achieved through sustained and inclusive dialogue.
It is important to create a conducive environment for dialogue by promoting trust-building measures and confidence-building measures, such as people-to-people contacts and cultural exchanges.
II- Pakistan and Afghanistan
The relationship between Pakistan and Afghanistan has remained oscillating. Pakistan and Afghanistan are intertwined in a way that not only do they share a neighborhood but also have common ethnicity, common ideological basis, and common historical contours. Stability in Afghanistan is vital for a secure Pakistan.
From direct conflict with the superpowers (Soviet Union) in 1979 and (the US) in 2001 to internecine conflicts for power, Afghanistan has remained in turmoil for the last four decades.
This prolonged period of instability has had far-reaching social and political consequences not only for Afghanistan but also for neighboring Pakistan, which has had to navigate challenges related to sovereignty, security interests, global interference, and cross-border terrorism, leading to strained relations between the two countries.
The current tensions between both states emerged when the Taliban stopped the construction of fences on the border. According to the United States Institute of Peace (USIP), the military forces of Pakistan have encroached on 15 kilometers of Afghani territory in pursuit of constricting illegal cross-border movements.
Additionally, the Durand Line, a 2,640-kilometer border demarcated by the British during colonialism, remains a contentious issue.
This line has divided the Pashtun-dominated region, enabling British imperialism's divide-and-rule policy and fueling Pashtun nationalism, particularly in Afghanistan.
The line has been disputed by Afghans since its inception, leading to fluctuating tensions. The Pashtun dominance also extended to Pakistan's former Federally Administrated Tribal Areas (FATA).
Due to the ethnic ties and similarities between the people living on both sides of the border, illegal border crossings and the smuggling of drugs and arms have continued to occur.
Significance of Convergence for both states
Bilateralism is important for both states, as peace and stability of Pakistan and Afghanistan are also vital for the South Asian region.
Durand Line
Resolving the Durand Line issue is crucial for fostering smooth ties between Pakistan and Afghanistan.
The first step towards resolution would be for Afghanistan to accept and recognize the international border.
Pakistan can also contribute by properly fencing the border and preventing illegal border crossings. While the Pakistani government and state institutions have taken measures to address these issues, consistency is essential.
Trade and Economic Ties
There is a need for enhanced economic integration between the two states.
A recent economic survey of Pakistan shows that bilateral trade between Pakistan and Afghanistan has increased from $451 million in July-October 2021 to $741 million in the same period in 2022.
The trade linkages between the two countries are supported by the Afghanistan-Pakistan Transit Trade Cooperation Authority (APTTCA), the Pak-Afghan Joint Chamber of Commerce & Industry, the Pakistan-Afghanistan Joint Business Council, Joint Economic Commission (JEC) and Afghan-Pakistan Action Plan for Peace and Solidarity (APAPPS).
Additionally, Afghanistan possesses abundant mineral resources, including iron, copper, gold, natural gas, uranium, zinc, lead, gemstones, and marble, estimated to be valued at around $3 trillion.
Afghan Refugees
To make amends between Afghanistan and Pakistan, it's important to understand the history of refugee movements between the two countries.
The first wave occurred after the military coup in 1978 by the People's Democratic Party of Afghanistan (PDPA), and the second followed the Soviet assault on Afghanistan in 1979. The third wave happened when the Taliban took power in 1996, and the fourth occurred during the war on terrorism in 2001.
Over the last four decades, Pakistan has welcomed millions of Afghan refugees, with approximately 2.8 million still living in the country, according to the United Nations High Commissioner for Refugees (UNHCR).
These refugees have contributed to Pakistan's economy by engaging in business and trade. Although Pakistan is collaborating with human rights organizations to ensure the well-being of Afghan refugees, it is important to acknowledge their economic contributions to Pakistan's economy.
This can help create a positive image of Afghan refugees and mitigate potential tensions and would also promote a better understanding of each other's perspectives and foster cooperation.
Development Diplomacy
Pakistan has taken various steps to improve its relations with Afghanistan, including providing $1 billion in assistance after the US withdrawal. This aid has been invested in education, infrastructure, health, and service sectors.
Additionally, Pakistan has established healthcare facilities such as Jinnah Hospital Kabul, Nishtar Kidney Center, and Naib Aminullah Khan Logar Hospital.
Furthermore, Pakistan has offered scholarships to 50,000 Afghan students who are currently studying in Pakistan, with a pledge of $2 million.
Pakistan has also constructed several educational facilities in Afghanistan, including the Rehman Baba School and Hostel in Kabul, the Allama Iqbal Faculty of Arts at Kabul University, the Sir Syed Science Block at Nangarhar University in Jalalabad, and the Liaqat Ali Khan Engineering Block at Balkh University in Mazar-e-Sharif.
These efforts demonstrate Pakistan's commitment to building a stronger relationship with Afghanistan through development diplomacy.
The way forward
Pakistan has prioritized cooperation and consensus with Afghanistan to maintain stability and peace.
To enhance dialogue and cooperation, Pakistan has participated in various meetings such as Kabul Process-I&II, RECCA, Moscow Format on Afghanistan, SCO Contact Group on Afghanistan, International Contact Group on Afghanistan, Six-Party Talks, and others.
However, the recent Taliban takeover of Afghanistan has created a potential scenario for civil unrest and instability from the domestic policies of the Taliban. This situation may result in a contentious relationship between the two states.
Despite this, there are options for strong engagement between Afghanistan and Pakistan. The key is to keep diplomatic channels open and flexible, which can foster a positive relationship leading to long-term stability. Pakistan's support is essential for a stronger Afghanistan.
III- Pakistan and China
The relationship between Pakistan and China has always remained meaningful and formidable. As they say, deeper than the ocean and higher than mountains.
Both established diplomatic ties in 1951. Pakistan was the first country to recognize China as a nation-state. Bilateralism rests on mutual trust, goodwill, and consensus.
Over the years, the relationship has transformed into an "All-Weather Strategic Cooperative Partnership."
Relationships further strengthened when China opened up into the globalized world. Moreover, when in 2013, Premier Li Keqiang visited Pakistan and called for "Deepening Comprehensive Strategic Cooperation."
Furthermore, in 2013, both countries signed a landmark Memorandum of Understanding for cooperation on China-Pakistan Economic Corridor (CPEC). Then in the same year, Pakistan started the construction of Gwadar Port with the help of China.
During a visit to Pakistan in 2015, Chinese President Xi Jinping finalized more than 50 agreements related to infrastructure, energy, and industry. The China-Pakistan Economic Corridor (CPEC) was established as part of these agreements, with China committing to investing $65 million.
Bilateral trade also increased to $16 billion in the same year. That reached $1.27 billion in 2022. In 2019, Pakistan's former Prime Minister, Imran Khan, visited China. He participated in the 2nd Belt and Road Forum for International Cooperation.
The sole issue between the two states pertains to acts of terrorism targeting Chinese officials in Pakistan. To address this matter, the Pakistani government has formed a specialized committee responsible for safeguarding the security of Chinese officials and laborers.
Why China is Important for Pakistan
Defence Cooperation
The Pakistan-China defense partnership has seen significant progress over the years through high-level military exchanges, joint exercises, and cooperative training. China has also played a crucial role by providing advanced military technology to Pakistan, including aircraft, submarines, tanks, and other equipment.
In response to the US-India nuclear strategic agreement, Pakistan and China strategically collaborated, providing Pakistan with a vital strategic edge. Additionally, China seized the opportunity to counter US influence in the region, making it a crucial player in Pakistan's defense cooperation.
Trade Relations
Pakistan currently considers China its most important trade partner, mainly due to the significant amount of imports Pakistan receives from China in the form of machinery, industrial goods, transport, and chemical products. In return, Pakistan exports cotton yarn, cotton fabric, rice, leather, and fish products to China.
Despite the pandemic, trade between the two countries has increased due to the implementation of the 2nd Phase of the China-Pakistan Free Trade Agreement (CPFTA) signed in 2019.
The agreement aims to facilitate increased trade by offering concessions on tariffs and import liberalization and focusing on developing Special Economic Zones (SEZs).
As part of the agreement, China has granted Pakistan zero tariffs on 313 of its major export commodities. The trade volume is expected to reach $50 billion in the next five years, reflecting the enormous potential for further growth between the two countries.
China-Pakistan Economic Corridor (CPEC) 
China's involvement in the China-Pakistan Economic Corridor (CPEC) is essential to its implementation.
The Joint Cooperation Committee (JCC), jointly chaired by Pakistan's Federal Minister for Planning, Development, and Reform and the Vice-Chairman of China's National Development and Reform Commission, oversees CPEC and is divided into ten Joint Working Groups.
Completed projects under CPEC include energy, infrastructure, and industrial cooperation, such as the Multan-Sukkur and Peshawar-Karachi Motorways, Havelian-Thakot Karakoram Highway, and three Special Economic Zones.
China's role in CPEC is crucial to Pakistan's economic growth.
The way forward
The future of Pakistan-China relations looks promising as both countries continue to strengthen their ties. China's "One Belt One Road" initiative includes the China-Pakistan Economic Corridor (CPEC), a significant project for the two nations.
Pakistan's strategic alliance with China has grown stronger as it plays an important role in this endeavor.
Furthermore, China provides Pakistan with a safe alternative to counter the threat posed by India. In return, Pakistan is a strategic buffer for China against Indian dominance in South Asia.
With these factors in play, the relationship between Pakistan and China will likely continue to thrive and deepen.
Critical Analysis 
Pakistan faces significant internal and external challenges that impact its position in the region and the international community. In particular, Pakistan's relationship with its neighboring countries, India, Afghanistan, and China, is critical to its foreign policy.
Internally, Pakistan struggles with political instability resulting from power politics. The ouster of the former Prime Minister, Imran Khan, in 2022 created polarization and instability, further exacerbated by the alignment of military and some civilian factions.
The international community witnessed and condemned human rights violations in the country resulting from the ongoing political turmoil. The fragile political situation contributes to Pakistan's economic crisis, with hyperinflation now accounting for more than 35 percent. 
In addition, Pakistan is grappling with a flood-driven crisis that requires substantial international support. Though the world community pledged at the Geneva Conference, Pakistan must demonstrate constructive progress to secure those pledges.
Furthermore, the recent terrorist incidents, such as the attack on Police Lines in Peshawar, threatens the progress made in previous years toward peace.
Given these challenges, Pakistan needs to devise a foreign policy that safeguards its national interests while addressing internal instability and chaos. This policy must include efforts to improve its relationships with neighboring countries, including India, Afghanistan, and China. To achieve this, Pakistan should adopt a more comprehensive approach to address issues such as cross-border terrorism, economic cooperation, and regional stability.
In conclusion, while Pakistan faces significant challenges, it can overcome them by adopting a more proactive and comprehensive foreign policy that prioritizes good relations with its neighbors and addresses internal instability.
*The views expressed in this article do not reflect the opinions or position of The Diplomatic Insight. The organization does not endorse or take responsibility for the article's content. Any opinions or perspectives expressed in this article are the author's alone.