Georgia, 26 July 2022 (TDI): The president of the 76th session of UNGA, Abdulla Shahid is on an official visit to Georgia from 23-26 July. During his visit, he will meet with many Georgian officials. He recently met with Georgian President Salome Zourabichvili on 25 July 2022.
Aim of the official visit
UNGA president's visit aims to celebrate 30 years of Georgia's membership in the United Nations (UN). The meetings will also include discussions concerning sustainable recovery from the COVID-19 pandemic. They will also discuss the execution of the Agenda 2030, sustainable youth and women issues and also enhancing multilateralism on issues concerning the president of hope.
At the meeting with the Georgian president, Shahid discussed Georgia's priorities at the UN. They also discussed topics on peace and security, sustainable development, and tourism.
Deeply honored to call on H.E. Ms @Zourabichvili_S, President of Georgia.

Discussed 🇬🇪s priorities at @UN; peace & security in the region, sustainable development & tourism.

Commended 🇬🇪 for its
👉commitment to multilateralism
👉women empowerment
👉contribution to @UN pic.twitter.com/K7pll8fu06

— Abdulla Shahid (@abdulla_shahid) July 25, 2022
Shahid also thanked Georgia's commitment to multilateralism, women empowerment, and also its contributions to the United Nations.
Also read: Guatemalan Minister meets UNGA President
UNGA President's meetings with other officials
Before his meeting with Georgia's president, Shahid first met with Georgia's Foreign Minister Ilia Darchiashvili on 25 July. The two officials discussed issues of cooperation between Georgia and the United Nations (UN). They also addressed issues in relation to peace and security, human rights, and gender equality.
Delighted to welcome UNGA76 President @abdulla_shahid on his first visit to 🇬🇪. Discussed core themes of our cooperation agenda from security to human rights. Accentuated 🇬🇪's active engagement in organization's work process. Grateful to President for staunch support to 🇬🇪. pic.twitter.com/vb7z45W0oU

— Ilia Darchiashvili (@iliadarch) July 25, 2022
Furthermore, Darchiashvili and Shahid also addressed the human rights situation in Abkhazia and Tskhinvali/South Ossetia. Following this, Shahid also visited a camp in Tserovani near Tbilisi. This camp accommodates internally displaced people.
Shahid also met with the Chairman of the Parliament of Georgia, Shalva Papuashvili. The two emphasized the "importance of multilateral diplomacy, rules-based international order, and support for the more active participation of women in politics".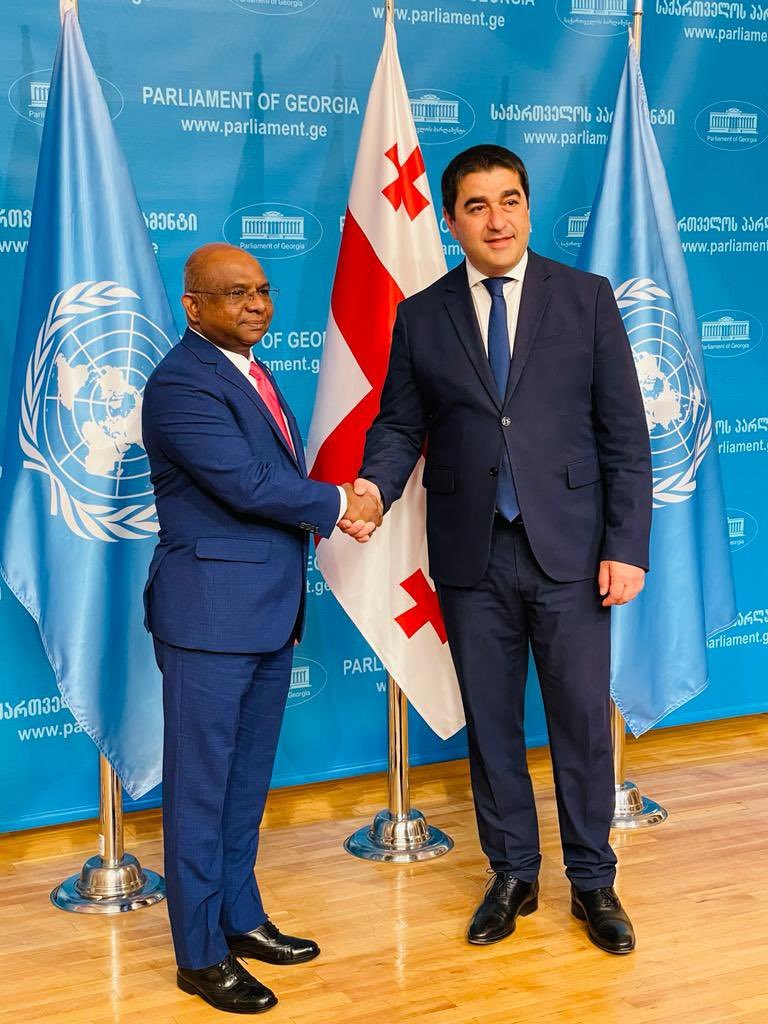 UNGA president also interacted with UN officials like Kemlin Gurley who is the UN Resident Coordinator and also the Country Team at the UN House. Shahid was impressed by the depth and variety of engagement between UNCT and the Georgian government. He was also grateful for the support he received during his official visit.