Beijing, 21 May 2023 (TDI): A team of ambassadors and journalists from several foreign countries visited China's Tibet Autonomous Region to watch Tibetan opera at the Norbulingka in Lhasa, on May 18.
During their visit, the ambassadors and journalists had the opportunity to indulge in the delightful flavors of Tibetan cuisine, including the renowned butter tea.
They also immersed themselves in the local culture by participating in lively dancing performances, further enriching their experience in Tibet.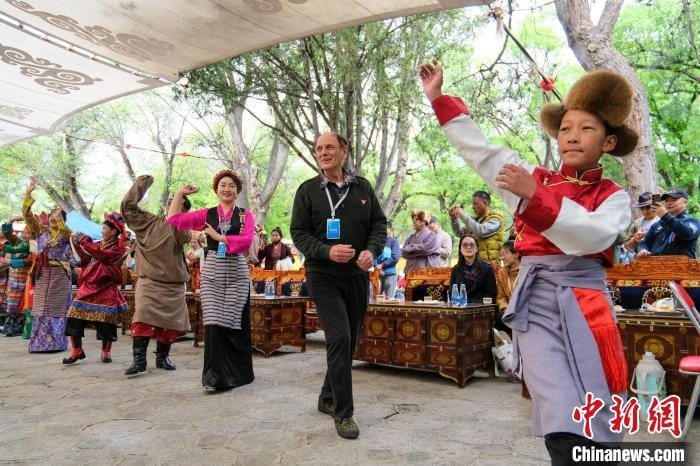 As a matter of fact, Tibetan cuisine adds a delightful dimension to the cultural experience. Savoury momo dumplings, hearty yak meat dishes, and the famous butter tea are among the culinary delights that tempt the taste buds.
Moreover, the Visitors also explored local markets and handicraft workshops to appreciate traditional craftsmanship, including intricate thangka paintings, vibrant textiles, and intricately woven carpets.
The region's vibrant culture is deeply rooted in Tibetan Buddhism, which influences every aspect of daily life. From exploring ancient monasteries and sacred sites to witnessing colourful festivals and participating in traditional rituals, travellers have the chance to embrace the spiritual essence of Tibet.
In addition, the Forum on the Development of Tibet, China 2023 on Friday also welcomed another delegation of Chinese and foreign guests to visit the library of Tibet University to learn about the preservation and organization of Tibetan ancient texts.
In essence, Tibetan tourism offers a remarkable blend of cultural immersion, natural wonders, and warm hospitality, making it incredibly attractive to foreign tourists and visitors.
It is a chance to explore a land where spirituality, traditions, and awe-inspiring landscapes come together to create an unforgettable journey of discovery.
Above all, Hospitality is a hallmark of Tibetan culture, as locals warmly welcome visitors with open arms. Engaging with the friendly Tibetan people provides a deeper understanding of their way of life and their enduring spiritual beliefs.
Also read: Chinese He (和) Culture and its Implication for China-Pakistan Relations
Whether participating in traditional dance performances or engaging in heartfelt conversations, the warmth and kindness of the Tibetan people leave a lasting impression on every traveller.