Shijiazhuang, 16 September 2023 (TDI): The second edition of "The Belt and Road Symposium on International Finance" kicked off at Hutuo New World Hotel in Chang An District, Shijiazhuang City, Hebei Province, China, on Saturday.
This event was hosted by Hebei Normal University (HEBNU) and co-sponsored by China Construction Bank Hebei Branch, along with academic supporter Modern Bankers.
The symposium's primary objectives centred on the exploration of financial development in countries along the Belt and Road Initiative (BRI), fostering discussions on the latest discoveries in financial theory and practice, and facilitating business exchanges aimed at enhancing Hebei Province's ties with BRI nations across diverse sectors.
This symposium stood as a significant international gathering, bridging academia and the financial industry.
It garnered participation from esteemed scholars from countries such as Russia, China, Pakistan, Brazil, Indonesia, Sri Lanka, and Peru.
At the inaugural ceremony, notable speeches were delivered by Marcio Pochmann, Director of the Brazilian Institute of Geography, and Professor Dai Jianbing, Communist Party Secretary of Hebei Normal University.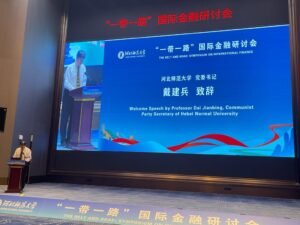 The event's keynote speakers featured Chen Zhongxin, President of the Hebei Branch of China Construction Bank, China; Helen Kay Wang, Curator of East Asian Money, Department of Coins and Medals, the British Museum and Maya Malinda, Vice-president of Maranatha Christian University, Indonesia.
The lineup also included distinguished figures like Wu Jingping, Director of the Research Center for Chinese Financial History at Fudan University; Bradley Emerson, Executive Director of Imperial Institute of Higher Education, Sri Lanka; and Carlos Alberto Aquino Rodriguez, Director of the Centre for Asian Studies at San Marcos National University, Peru.
Furthermore, Dr. Ijaz Asghar represented Qaisar Abbas, Vice Chancellor of the University of Sargodha, Pakistan, and delivered a speech on his behalf.
The speakers expounded on a wide array of topics, encompassing Belt and Road construction, digital finance innovation, cross-border audit supervision, internationalization of commercial banks, internationalization of the Yuan, and challenges and opportunities of China's financial internationalization, among other subjects.
The symposium featured three distinct forums, where scholars presented papers on a wide range of subjects:
The First Forum delved into subjects like financial cooperation, investment strategies, enhanced financial infrastructure along the BRI, financial innovation in the digital era, financial technology risks, governance issues within commercial banks, and the realm of digital currency.
Also Read: Hebei Normal University to Host Second "The Belt and Road Symposium on International Finance"
The Second Forum placed its focus on extensive research encompassing the financial history of China and its role in the modern world, monetary finance under the leadership of the Chinese Communist Party, and the history of financial thought and influential scholars, among other pertinent subjects.
The Third Forum provided a platform for in-depth discussions on various financial practices, including those related to the private economy, financial instruments, challenges posed by the China-Pakistan Economic Corridor (CPEC), and more.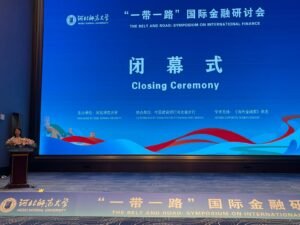 The Symposium reached its conclusion with Zhao Xiaolan, Vice President of Hebei Normal University, presiding over the closing ceremony.
The international delegates extended their gratitude to Chair Zhao Xiaolan, Vice President of HEBNU, as well as to Professor Dai Jianbing, Communist Party Secretary of HEBNU.
Additionally, the Pakistani delegation expressed their special appreciation to Dr Guoyaling, Director of the Pakistan Research Center at HEBNU, and other administrative staff of the university for their pivotal role in ensuring the success of the symposium.