Amersfoort, 25 November 2021 (TDI): The Ambassador of Pakistan to the Netherlands, Suljuk Mustansar Tarar met with President Consumer Dairy at Friesland Campina, Roel van Neerbos.
The Ambassador highlighted Pakistan's focus on geo-economics and appreciated Friesland Campina's role in the development of Pakistan's dairy sector.
Suljuk Mustansar Tarar tweeted that he was pleased to meet the President of Friesland Campina & interact with the Friesland Campina Engro Pakistan Limited team.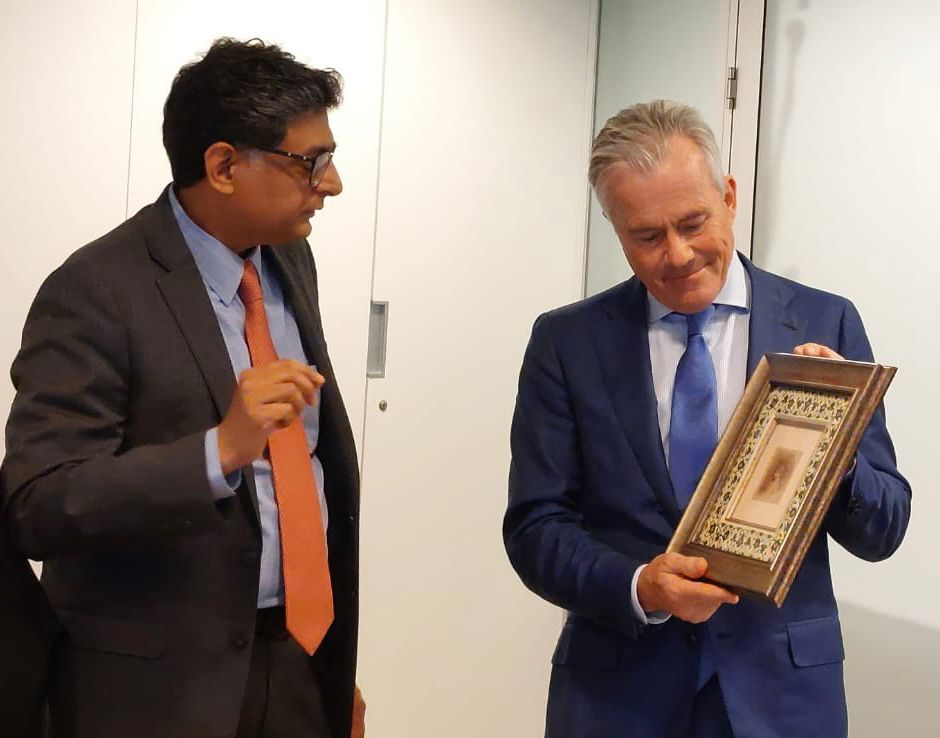 Potential of Investment in Pakistan's Economy and Market
Ambassador Suljuk discussed the status of Pakistan's economy amidst the economic deterioration due to Covid-19. He expressed his views regarding the upward growth of the economy in Pakistan despite the several shocks of the global pandemic.
However, there is still a vacuum that needs to be filled. He underscored the potential of various sectors of Pakistan which need to be explored; to enhance exports and further relations with the outer world.
In today's age of interconnectivity and interdependence in the economic realm, he pointed out that dairy products are one of the important products imported by the Netherlands from Pakistan.
The Envoy pledged to encourage Dutch investors to explore the markets in Pakistan for possible joint ventures and investment in traditional and non-traditional spheres. He vowed to further relations with the Netherlands in different areas to encourage economic investments and ideas.
Furthermore, he highlighted the need to enhance economic ties between Pakistan and the Netherlands. The official meeting was meant to expand cooperation, contacts, information, and trade between the two states.
The Pakistani Envoy also enunciated the friendly policies of Pakistan towards the outer world to further ties on economic and diplomatic grounds.
Additionally, he encouraged the investors to come forward with new ideas and to provide a valid platform for mutual resolution of problems in near future.
The two sides cordially welcomed new ideas for further investment in the economic sphere and to develop states' friendly policies for stable relations.