Islamabad, 6 June 2023 (TDI): The United Nations Development Programme (UNDP) Pakistan, in partnership with the Government of Japan and Khyber Pakhtunkhwa (KP) Police, inaugurated model stations during a ceremony held in Islamabad.
In a landmark development, Khyber Pakhtunkhwa's merged districts of Mohmand and Orakzai have welcomed their first-ever Model Police Stations.
These Model Police Stations are exceptional law enforcement centers designed to cater to the unique needs of the merged districts.
They offer a range of modern amenities and services, including a gender-responsive desk to handle gender-based crimes, a meeting hall for joint community and police gatherings, an investigation room, an office for station house officers, security posts, lodging facilities for 55 police personnel, and separate holding rooms for men and women.
The Inspector General of Khyber Pakhtunkhwa Police, Akhtar Hayat Khan, expressed his appreciation for the collaboration between KP Police, UNDP Pakistan, and the Government of Japan.
He emphasized that these Model Police Stations exemplify their commitment to strengthening the rule of law and providing improved services to the citizens of the merged districts. He also expressed hope that these model stations would serve as a blueprint for police stations nationwide.
Also Read: Pakistan urges unprecedented response to help IIOJK
The Ambassador of Japan to Pakistan, WADA Mitsuhiro, emphasized the importance of supporting security and justice sector institutions to deliver people-oriented and gender-responsive services, particularly in post-merger districts.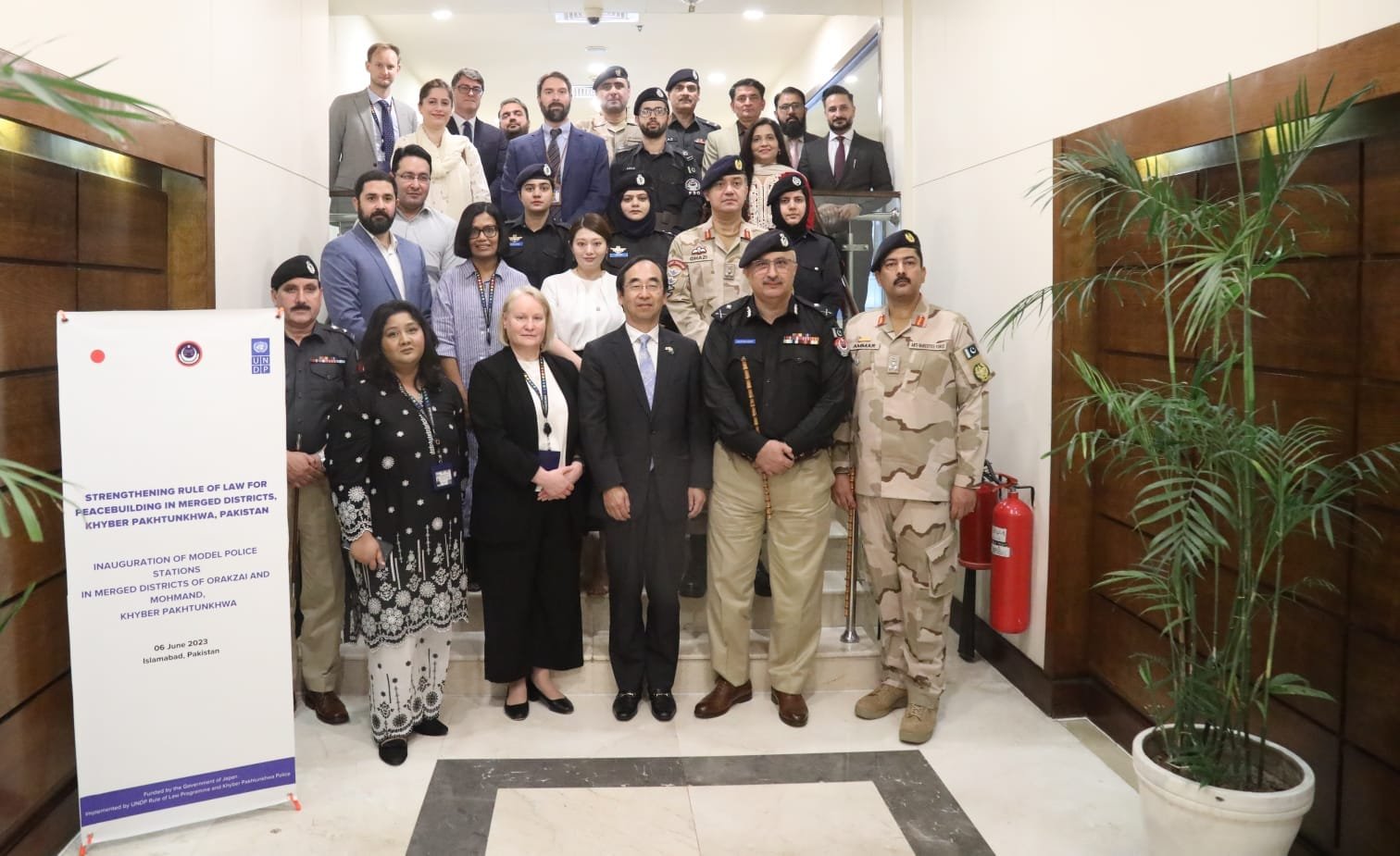 The establishment of Model Police Stations in these merged districts will play a pivotal role in achieving this objective.
He commended the efforts of Khyber Pakhtunkhwa Police and UNDP Pakistan in building peaceful and just communities in the region.
Aliona Niculita, Officer-In-Charge of UNDP Pakistan, highlighted how the integration of former Levies and Khasadars into Khyber Pakhtunkhwa Police, coupled with the establishment of Model Police Stations, would improve the formal policing and justice system in the merged areas.
She stressed the commitment to enhancing access to inclusive, accessible, and efficient justice and security services for all residents of the merged districts, particularly women and marginalized groups.
Under the same project, the UNDP Pakistan Rule of Law Programme has provided training to over 250 former Levies/Khasadar personnel who were integrated into KP Police.
The programme has also developed and launched Policing Plans for the seven merged districts of KP to restore people-centered, accountable, and responsive policing in the region.
In the near future, three more Model Police Stations will be established in Bajaur, North Waziristan, and Kurram to further enhance security services in the merged districts of Khyber Pakhtunkhwa.
These Model Police Stations are a result of a collaborative effort between UNDP Pakistan and Khyber Pakhtunkhwa Police, supported by the Government of Japan.
The UNDP Rule of Law Programme is actively implementing various interventions to strengthen security and justice sector governance in Pakistan, with a specific focus on the merged districts of the province.