Preserving the rights and entitlement of the Pacific island states is of prime importance to the world. The Pacific Ocean is home to 23 island countries, including the most significant island countries like Japan, Philippines, Indonesia, Australia, New Zealand, and small countries in Oceania.
Pacific Island States
There are 15 independent Pacific island nations in addition to tens of thousands of islands, islets, and atolls. Countries are primarily small and low in population, except Indonesia and Japan.
Geographically, Australia is considered a continental landmass rather than an island country. Climate change is an existential threat for many pacific islands.
An inland state, an island country, or an inland nation is a country whose primary territory consists of one or more islands. Approximately 25% of all independent countries are island countries.
Climate change can affect some island countries, which causes problems like land use and water scarcity. Tropical cyclones, hurricanes, floods, and drought are the most commonly endangering factors in island countries.
As the sea level rises due to inadequate measures, these islanders are prone to risk. Often these islanders tend and attempt to relocate themselves but are unable to materialize it and are barred due to the lack of resources.
Small islands located in the tropical higher latitude or extreme weather are exposed to the changes in the sea level. Coral hazards, erosion, and storm surge threaten its infrastructure, livelihoods, and settlements impeding their growth and threatning their survival.
Climate change has already reduced water resources, making it difficult to sustain the demand during low rainfall periods. The former President of the Republic of Marshall Islands expressed his deep concerns about the devastating climate change that last year alone country suffered unprecedented drought in the north.
Likewise, the most significant king tide in the south caused a trail of death and destruction in the region behind it. He emphasized the Paris Agreement countries to play a role in its commitments to maintaining the basic promises to help control climate change.
Paris Agreement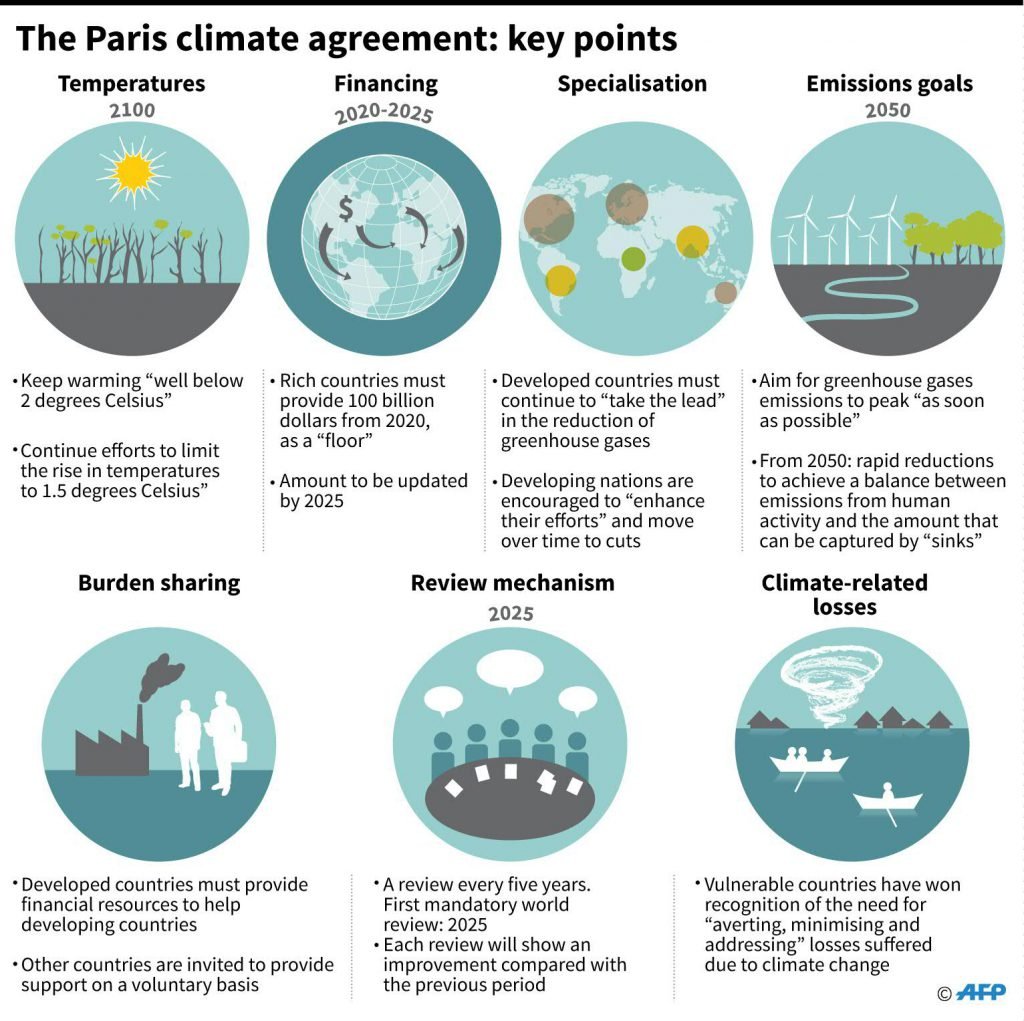 The Paris Agreement is a legally binding international treaty on climate change. It was adopted by 196 parties at the Conference of Parties 21 (COP21) in Paris on 12 December 2015.
The Paris Agreement is a landmark in the multilateral climate change process. It is a binding agreement focused on bringing all nations to make a standard adjustment to combat climate change and control its drastic effects on the world. It entered into force on the 4th of November 2016.
Paris Agreement's central aim is to strengthen the global response to the threat of climate change by keeping the rise of global temperature well below 2 degrees Celcius. The Paris Agreement requires an economic and social transformation.
It works on a 5-year cycle based on climate action by the countries. By 2020 the countries submitted their climate action plans as Nationally Determined Contributions (NDC).
Countries under this contribution will take action to reduce their greenhouse gas emission actions to initiate a strategy to adopt measures against the rising temperatures.
Under these agreements, countries are liable to provide a framework that could help achieve the goals on the financial and technical levels and sustainable capacity-building programs for the countries that need it.
Leaders of the small island countries pledged in the General Assembly. They showed their grave concerns that if the rich countries fail to control global warming, the Pacific bio-diversity will face the consequences.
COP26 United Nations Climate Change Conference
The COP26 United Nations Climate Change Conference, hosted by the United Kingdom in partnership with Italy, took place from 31 October to 12 November 2021 in Glasgow.
It involved 197 nations agreeing to a new environmental pact. Pacific Small Island Developing States (PSIDS), the Pacific Community Climate Change and Environmental Sustainability Program, tends to assist national governments.
All Pacific nations welcomed the rapid ratification of the Paris Agreement. Under the Paris Agreement, each signatory country is committed to reducing greenhouse emissions and improving financial preparedness and financial flow to minimize the climate crisis.
Countries like Australia, New Zealand, Singapore, Switzerland, and Vietnam have claimed insufficient contributions by the countries who committed to Paris Agreement and failed to submit more ambitious pledges for 2030 after signing the Paris Agreement in 2015.