The Embassy of Azerbaijan in Islamabad hosted a grand celebration to commemorate the 100th birth anniversary of Heydar Aliyev, the National Leader of the Azerbaijani people, on May 3, 2023.
Dignitaries from all walks of life honored Heydar Aliyev's extraordinary legacy, including ambassadors, government officials, and prominent figures at the ceremony.
Heydar Aliyev, born on May 10, 1923, in Azerbaijan's Nakhchivan City, was recognized as a national savior who led his people with steadfast conviction. Azerbaijan had a renaissance and a great awakening of national consciousness under his leadership, leading to the nation's eternal and irreversible independence.
Khazar Farhadov, Ambassador of Azerbaijan to Pakistan, conveyed his profound gratitude to all guests in his enthusiastic speech. He highlighted Heydar Aliyev's extraordinary efforts as a visionary leader who played an instrumental part in Azerbaijan's freedom and independence.
He emphasized Heydar Aliyev's endeavors as Leader of the Azerbaijan Soviet Socialist Republic from 1969 to 1982. His tireless struggles yielded significant achievements in various domains, including the economy, industry, agriculture, education, and culture.
According to the Envoy, Aliyev's notable accomplishments were his construction of industrial structures, cultural and educational hubs, healthcare facilities, mass housing, and roadways. He also built a strong foundation for the nation's independence by nationalizing the labor force and elevating Azerbaijani skills to significant governmental appointments.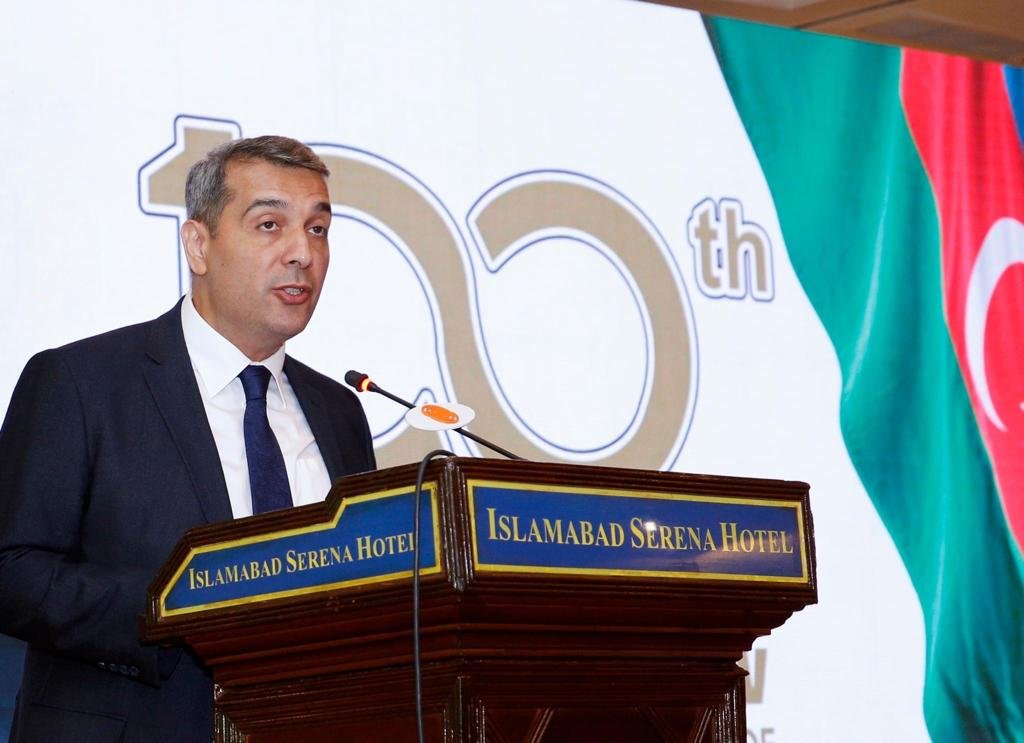 Ambassador Farhadov underscored Heydar Aliyev's crucial contribution to developing and preserving the Azerbaijani language and culture. Despite the hurdles provided by Soviet fascism, Heydar Aliyev's determination to establish Azerbaijani as the state language and enshrine it in the constitution underlined his steadfast dedication to the Azerbaijani people.
Azerbaijan was on the verge of civil war and losing its independence when Heydar Aliyev returned to power in 1993. The Ambassador noted that his leadership quickly replaced chaos and disorder with stability and prosperity.
Heydar Aliyev's progressive initiatives allowed international projects like the Baku-Tbilisi-Ceyhan pipeline and the Agreement of the Century to come to fruition, increasing Azerbaijan's standing in world affairs and assuring rapid socioeconomic progress.
During his address, Farhadov also spotlighted Azerbaijan and Pakistan's deep affinity and coalition, which Heydar Aliyev fostered and consolidated. Heydar Aliyev's official visit to Pakistan in 1996 was critical in boosting bilateral relations, resulting in the signing of numerous significant agreements.
According to diplomat Farhadov, Heydar Aliyev established the foundation for the Azerbaijan-Pakistan alliance, and President of Azerbaijan Ilham Aliyev prioritizes strengthening ties between the two fraternal countries.
The Address of President Ilham Aliyev
During the festivities in honor of Heydar Aliyev's birth anniversary, Envoy Farhadov also shared President Ilham Aliyev's speech, noting that Pakistan and Azerbaijan are true friends and brotherly countries.
President Aliyev adored the Pakistani people and government for their solidarity in his speech. He acknowledged that the unwavering support of Pakistan had strengthened Azerbaijan. He also recognized Pakistan's crucial contribution to advancing justice and drew attention to Azerbaijan's cause globally.
He stated that during the occupation of Azerbaijani territories and the subsequent war, Pakistani leaders consistently reaffirmed their commitment to Azerbaijan's territorial integrity and condemned the illegal region seized. Pakistani governments' most precise and robust declarations demonstrated the two countries' strong and enduring friendship.
President Aliyev underlined that Pakistan's assistance has been critical in strengthening Azerbaijan's drive and perseverance during these difficult moments.
The President stressed the essence of such assistance during conflict and occupation, which can have a massive impact on a nation's morale. The excellent bilateral ties between Azerbaijan and Pakistan have been further strengthened by the people of Pakistan and their government's act of solidarity.
President Aliyev also emphasized Azerbaijan and Pakistan's historical and cultural relations, which have grown more substantial due to shared principles, desires, and mutual respect. He hoped these relationships would develop further, opening the door for more extensive collaboration across multiple sectors.
Also Read: Pakistan Ambassadors honor Azerbaijan Leader Heydar Aliyev
Azerbaijani Mugham Celebration: A Musical Spiritual Journey
The Azerbaijani Embassy in Islamabad also held an enthralling performance of Mugham, one of the primary genres of Azerbaijani folk music, as part of the ceremonies celebrating Azerbaijan's rich cultural heritage. The enchanting sounds of Mugham filled the surroundings, taking the audience on a journey through the rich musical traditions of Azerbaijan.
Mugham is an integral part of Azerbaijani culture, with roots dating back to ancient times. Its performance art draws inspiration from earlier Avesta hymns and Quranic recitation traditions.
According to one interpretation, "Mugham" means "God sent music." For countless admirers, Mugham transcends being a beautiful lyrical melody and becomes a state of mind, a means to connect with the world, and a form of cosmic philosophy.
Mugham is traditionally performed by three musicians: a singer, a Kamancha player, and a tar player. The lead vocalist blends improvisations and subtly empathetic undertones to steer the central theme. Almakhanim Ahmadli performed as the Mugham vocalist alongside Masim Islamov, who played Tar, and Elvin Novruzov, who portrayed Kamancha.
Mugham serves as a metaphor for music, philosophy, and the practice of meditation for the Azerbaijani people. It serves as a gateway to the spiritual realm, healing the soul and mind. It also fosters a cosmic of thinking that underpins multiculturalism—the progressive policy of the Republic of Azerbaijan.
Azerbaijani Mugham's cultural importance is now acknowledged globally. It was designated a masterpiece of the Oral and Intangible Heritage of Humanity in 2003. Furthermore, Azerbaijani Mugham was inscribed on the Representative List of the Intangible Cultural History of Humanity in 2008, establishing it as a priceless treasure of global cultural history.
The Azerbaijani Embassy in Islamabad presented the enchanting beauty of Mugham in conjunction with gifted musicians, who enthralled the audience with its soul-stirring melodies and intricate harmonies. The concert recognized the artistic magnificence of Azerbaijani culture and underlined the country's dedication to preserving and developing its rich legacy.
Ambassador of Pakistan Honors National Leader Heydar Aliyev in Nakhchivan
Conversely, today the Pakistani Ambassador to Azerbaijan, Bilal Haye, traveled to Nakhchivan, the hometown of the revered Azerbaijani National Leader, Heydar Aliyev, with officials from the Azerbaijani government and fellow diplomats. The delegation paid a heartfelt tribute to the visionary politician whose enduring legacy established modern Azerbaijan.
The Pakistani envoy's visit to Nakhchivan is quite significant. He expressed his utmost respect and appreciation for Heydar Aliyev's enduring legacy. Diplomat Hayee honored Heydar Aliyev's crucial contribution to the country's development and his vision for a strong and prosperous Azerbaijan.
According to Ambassador Hayee, his visit to Nakhchivan symbolizes Pakistan and Azerbaijan's historical friendship, as both countries acknowledge and cherish the critical contributions of each other's visionary leaders. It is a tribute to the two countries' ongoing camaraderie and alliance based on their shared dedication to the principles of development and shared values.