Muhammad Khalique
Relations between Pakistan and Russia have entered into a new phase of enhanced cooperation in diverse fields including geopolitics, economics, and defense, which would be beneficial for both countries.
Lately, relations between them were strained due to Pakistan's alignment with US and Russia's strong ties with India. However, both countries have made efforts to improve bilaterally beneficial relations with the Putin era post-2008 being the most prominent component.
Therefore, under Vladimir Putin's mandate, Russia re-positioned its geopolitical alignment from Europe to the Eurasian arena. This is to create a platform for cooperation in common interests covering economic, information, transportation, peace, and security. Meanwhile growing US-India strategic partnership and changing regional geopolitics made Pakistan form a new regional alignment.
As the Indo-US relations deepened after the 2008 Nuclear Deal, Russia started to realign its geopolitical strategies regarding South Asia. In 2010, for example, Russia organized a summit regarding Afghanistan in Moscow, including Pakistan, Afghanistan, and Tajikistan.
This move indicated Moscow's growing interest in Afghanistan while also seeing Pakistan as an important regional player. Sensing it as an opportunity, Pakistan also started to shift its radar towards Russia. On the other hand, the Chinese factor is also an important aspect in the growing Pakistan-Russia relations.
As Pakistan and China are bound to each other in their regional and international politics, Russia is also seeking to be on the bloc to grow its influence in the region. For instance, SCO is where Russia and China are playing a key role in regional politics.          
In addition, the trajectory Pak-Russian defense cooperation and its expansion is an important fact of regional security and stability. A new chapter of military relations between Islamabad and Moscow began after Pakistan's Army Chief General Ashfaq Pervez Kiyani visited Moscow in 2011.
Consequently, Russia lifted the ban on arms sales to Pakistan, a significant point of Russia-Pakistan military relation. For his part, Pakistan's Air Force Chief visited Russia in 2012 followed by the Russian Air Chief's visit to Islamabad in 2013. So that, Russia-Pakistan military relations saw a significant peak when in 2014, a Defense Cooperation Agreement was signed during the visit of Russian Defense Minister Sergei Shigu to Pakistan.
Furthermore, followed by the visit of the then Army Chief General Raheel Sharif, both countries signed an agreement for the sale of four Mi-35M attack helicopters in 2015. One year later, they held several joint military exercises. Those included Arabian Monsoon Drills of 2014 and 2015, Aman Naval Exercise of 2017, and Druzhba military exercises.
In the same line, General Qamar Javed Bajwa visited Moscow and a Joint Military Commission of Russia and Pakistan (JMCC) was formed in 2018. This advisory group is in charge of increasing collaboration between Russia and Pakistan. Similarly, a Security Training Agreement has also been signed for the training of Pakistani Military Officers in Russian Military Institutions.
In contrast, economic cooperation between Russia and Pakistan witnessed ups and downs over the years. Nevertheless, Pakistan is becoming an attractive destination for foreign investors with its growing economy.
Similarly, Russia is showing intent to become a party in CPEC. Therefore, the energy sector is the main area where the economic interests are mostly aligned. That is why, Russia held the recent 7th Session of Pakistan Russia Inter-Governmental Commission on Trade, Economic, Scientific and Technical Cooperation. In which Russia alongside Pakistan signed the $3 billion agreement for the construction of the Pakistani Stream Gas Pipeline (PSGP) by February 2022.
Besides that, the PSGP is one of the largest Russian investments in Pakistan since the Soviet Union assisted in developing the Oil and Gas Development Company and Pakistan Steel Mills in the 1960s and 1970s.
In addition to that, Afghanistan has always been a point of concern for Russia in its security policies towards South Asia. For that reason, the US invasion of Afghanistan and the resurgence of the Taliban compelled Russia to approach Pakistan to balance the regional security discrepancies.
Thus, both countries viewed the withdrawal of the US from Afghanistan as inevitable. Besides that, they played an active role in talks with the Taliban through the 'Troika Plus' platform. In this case, Russia hosted the talks between the Taliban and various Afghan factions while Pakistan facilitated the peace deal between the US and the Taliban.
Now, after the withdrawal of the US from Afghanistan in August 2021, both countries are not only engaged with the new Afghan government but also urging other countries to do the same.
This, especially considering it important to not let Afghanistan become a hotbed for terrorism again.
Therefore, both countries urged the Taliban to form an inclusive government that will stabilize Kabul and the whole region. Fortunately or not, there seems a consensus that the threat from Al-Qaeda is significantly reduced, while new threats from ISIS (Daesh) have emerged as Russia and Pakistan have pledged to jointly tackle this threat under an SCO mandate.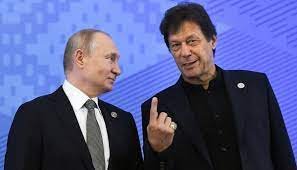 Essentially, the relations between Russia and Pakistan are improving after witnessing many highs and lows over the years. Realizing the importance of Pakistan, Russia sees it as a regional ally alongside China to counter US influence in the region. At the same time, Pakistan sees Russia as an international collaborator along with China who can help against the backdrop of its deteriorating relations with the US.
Although the ties between the two are mostly reliant upon the US, Chinese, and Indian influence in the region, nevertheless there are numerous political, military, and economic arenas where the two can build up their partnerships in the future. This is mainly to maintain a fruitful relationship for the betterment of both States.
*The writer is a Research Analyst with Masters in Defense and Strategic Studies from Quaid-i-Azam University Islamabad
*The opinion in this article is by the writer's very own and does not necessarily reflect the position of the Institutions.