Buenos Aires, 21 March 2022 (TDI): The Ministry of Health of Brazil has sent vaccines to support the Ministry of Health of Argentina in its fight against various diseases.
These vaccines will help Argentine authorities combat Poliomyelitis, triple viral, and varicella. The donation also includes ampoules for fighting the Taturana Caterpillar in the Misiones province of Argentina.
The Brazilian Embassy in Argentina announced that the donation covers more than One million doses of vaccine (triple viral, poliomyelitis, and against varicella) and 40 ampoules of antilonomic serum used to treat accidents caused by the Taturana caterpillar (Lonomia obliqua).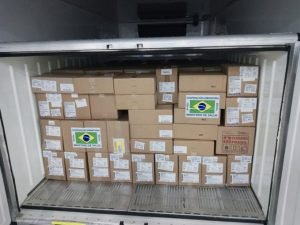 The Lonomia Obliqua is a toxic insect found in the tropical forests of South America. The insect causes several incidents of poisoning in Argentina and Brazil every year. The antilonomic serum produced mainly in Brazil is the only promising treatment.
The Embassy further expressed that the government made the donation part of humanitarian cooperation, and it will not affect Brazil's national supply.
The operation was carried out in collaboration with the Brazil Cooperation Agency, The Ministry of Health of Brazil, the Embassy of Brazil in Buenos Aires, and the Ministry of Health of Argentina.
The Argentine Ambassador to Brazil, Daniel Scioli, acknowledged it as an "important donation" and thanked Brazilian authorities.
Moreover, the Ministry of Foreign Affairs of Argentina also expressed gratitude to the government of Brazil. In addition, the Ministry wrote on Twitter that "Joint work and cooperation between sister countries is always the way forward."
Argentina-Brazil Relations
Argentina and Brazil are famous for their football rivalry. However, the relations between the two neighboring South American countries span centuries based on an immediate historical past. Along with sports, their relations encompass the areas of trade, economy, education, culture, military, and regional politics. From old wars and conflicts to friendships and alliances, the relationship between Brazil and Argentina has remained complex. Argentina and Brazil are the main political and economic partners and have bilateral solid strategic, regional, and global ties. Brazil and Argentina share a border that extends for 1,261 km (783.5 miles). Border integration policy is an essential aspect of the bilateral cooperation agenda. For more insight and information read here