Antalya Diplomacy Forum is a dialogue and meeting platform inaugurated by Turkey in 2021. To date, two editions of the Antalya Diplomacy Forum have taken place. The meetings are held in Antalya which is a Mediterranean coastal city in Turkey.
A wide range of global and regional issues have been discussed among leaders, scholars, and major personalities.
First Session
The first Antalya Diplomacy Forum session was held from 18 to 20 June 2021, formally titled "Innovative Diplomacy: New Era, New Approaches".
Various leaders and diplomats, academicians, journalists, and experts from around the world participated in the two-day diplomacy forum to discuss global issues and the subjects alike through multiple panels and round table discussions hosted in the city of Antalya.
Upon the invitation of Turkish President Recep Tayyip Erdoğan and the Turkish Foreign Minister Mevlüt Çavuşoğlu, dozens of heads of State and Foreign Ministers participated in the forum.
Among which the Prime Minister of Albania, Edi Rama; Turkish Cyprus President, Ersin Tatar; EU high representative and EU Commission vice president, Josep Borrell; EU commissioner for Promoting the European Way of Life, Margaritis Schinas; Director-General for the International Organization for Migration, Antonio Vitorino; Secretary-General for the Organisation for Economic Co-operation and Development (OECD), Mathias Cormann are the prominent figures to have participated in the forum.
Moreover, the Foreign Ministers of Azerbaijan, Georgia, Guinea-Bissau, Iran, Iraq, Libya, Pakistan, Palestine, Qatar, and various other countries also joined the forum sessions.
The forum was formally inaugurated with the opening speeches of Turkish President Erdoğan and the Turkish Foreign Minister Çavuşoğlu on the 18th of June, followed by the panel sessions on global governance and regional issues.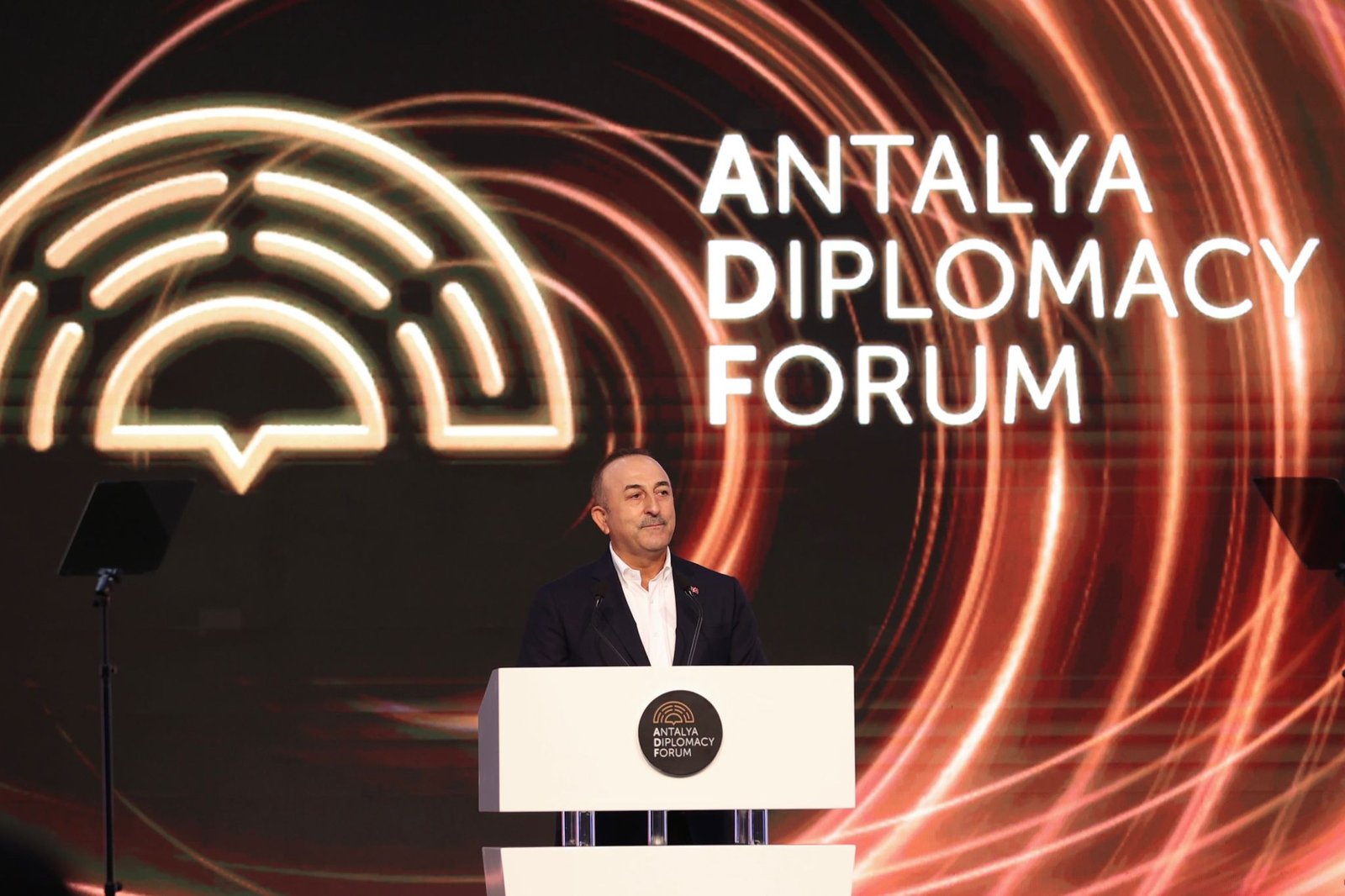 Through this forum, the leaders, policymakers, and stakeholders discussed and debated newer and more effective ways to resolve crucial issues and their future impact on the world.
These panel discussions focused on devising new approaches to global governance, enhancing the efficiency of regional organizations, flourishing the business sector through cooperation and economic diplomacy, future of energy, tackling terrorism and extremism, and enhancing women's role in the establishment of peace, along with seeking options for regional cooperation and mutual partnerships for sustainable peace and development.
The topics of discussion included regional developments in the Middle East and North Africa, Eastern Mediterranean, Southern Caucasus, Asia, Europe, and Africa. Panels having region-based themes included:
"A New Era in Transatlantic Relations"; "Partnership with Africa: Mutual Gains"; "Regional Cooperation in Asia"; "The Middle East and North Africa: Towards a Sustainable Agenda"; "A Regional Conference for Eastern Mediterranean"; "Southern Caucasus: New Opportunities for Regional Peace and Cooperation"; "Neighbors SEE Together: Future of Europe"; "The Way Forward for A Realistic Settlement in Cyprus"; and "Iran's Neighbourhood Doctrine"
Furthermore, the critical global issues of extremism and terrorism, discrimination, disinformation, migration, and energy were some of the highlighted themes of the forum. Specific topics included:
"Infodemic and Fake News in the Virtual World"; "Women's Contribution to the Search for Peace"; "Terrorism Threat Transforming"; "Energy: What Future Awaits Us?"; "Tackling Extremism and Discrimination"; and "Humanitarian Approach towards Refugees and Migrants"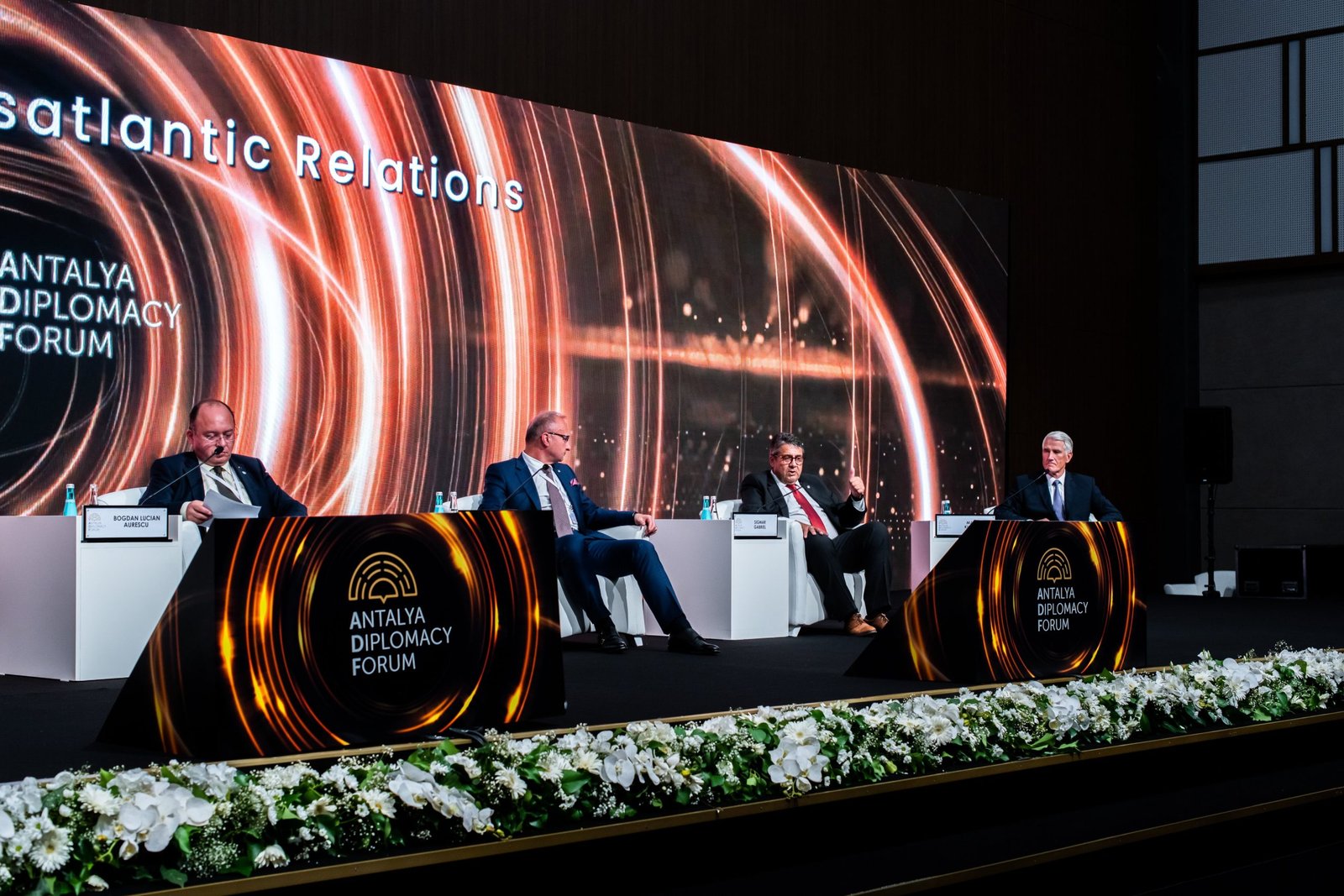 In addition, round table discussions focused on themes related to diplomacy, including the importance of economic and parliamentary diplomacy, and the effectiveness of regional organizations:
"Global Governance: New Approaches for Global Solutions"; "Innovative Mediation"; "The Increasing Importance of Parliamentary Diplomacy"; "From Theory to Practice: Innovative Ways for a More Effective Diplomacy"; "How to Increase the Efficiency of Regional Organizations?"; "The Business Sector and Economic Diplomacy"; and "A New Diplomacy for A New World
As Antalya Diplomacy Forum took place amid the Covid-19 crisis, special rules and regulations were devised for the participants and guests to ensure the measures for Covid-19.
An authorized staff was assigned by the Ministry of Health to be present at all Congress hotels and in the Congress center for Covid-19 measures in order to constantly monitor compliance with these measures.
Second Session
The second Antalya Diplomacy Forum was held on 11-13 March 2022 with a much wider range of topics and issues than the previous session.
The unmatched success achieved by the first Antalya Diplomacy Forum provided Turkey to take the lead in the world's diplomacy for another time.
Formally under the title "Recoding Diplomacy", the broader range of issues of international relations were discussed under the overarching theme with the purpose of innovating diplomatic practices and establishing efficient conduct among states and international organizations to meet the requirements of the novel global challenges.
The central purpose of the session was to address the transforming nature of diplomacy in international affairs and fluctuating global dynamics coupled with the Covid-19 pandemic.
H.E. @MevlutCavusoglu, Foreign Minister of Türkiye, addressed the participants at the inauguration of Antalya Diplomacy Forum 2022.#ADF2022#MEET4DIPLOMACY#RecodingDiplomacy pic.twitter.com/q0JPnjX3eA

— Antalya Diplomacy Forum (@AntalyaDF) March 11, 2022
This session was also joined by various leaders and heads of state, government officials and diplomats, foreign ministers, policymakers, business leaders, academicians, experts, and other organizational representatives under the auspices of the President of Turkey, Recep Tayyip Erdoğan.
The participants were comprised of representatives from 75 countries; 17 Heads of state, 80 foreign ministers, and 39 organizational representatives.
The notable participants among them are the President of Ukraine, Volodymyr Zelenskyy; President of Kosovo, Vjosa Osmani; NATO Secretary-General, Jens Stoltenberg; Council of Europe Secretary-General, Marija Buric; European Union Foreign Policy Chief, Josep Borrell, along with Foreign Minister of Azerbaijan, Jeyhun Bayramov; Foreign Minister of Palestine, Riyad Maliki; and interim Taliban's government Foreign Minister Amir Khan Muttaqi.
A series of panel discussions, round table talks, and bilateral meetings were the major components of the forum.
The panels were focused on a wide variety of topics incorporating international affairs, security, and regional and global cooperation.
A number of panel discussions were held among which the panelists presented on the current issues including:
Post-pandemic recovery and global health; Global institutional reforms; Disinformation; Sustainable Growth; Energy security; Racism and Discrimination; Women empowerment; Irregular immigration; and Food Security.
Moreover, several discussions focused on themes related to diplomatic issues:
"Strengthening solidarity and promoting peace through soft power"; "Peaceful resolution of maritime disputes"; "Effective global governance"; "Enhancing multilateralism"; and "Parliamentarian Diplomacy".
Other discussions were focused on specific regions. Cyprus, the Middle East, Africa, the Balkans, and South Caucasus re-appeared in the second edition of the Forum. However, new regions also debuted, including Afghanistan, Latin America and the Caribbean, and Asia-Pacific. These Panels included:
"Re-energizing the Dynamism in Latin America and the Caribbean"; "Europe's Neighbours, Europe as a Neighbour"; "The Future of Bosnia and Herzegovina"; "Cyprus Settlement Reaffirming Inherent Right"; "Prospects for an Inclusive Peace in the South Caucasus"; "Reconciliatory Dialogue in the Balkans"; "Searching for a Common Ground in the Middle East"; "Cooperation and Competition in the Asia-Pacific"; "Afghanistan: How to Cope with Realities?"; and "A Vision for Development in Africa"
Future Sessions
The two sessions of the Antalya Diplomacy Forum took place consecutively in 2021 and 2022. The Forum aims to continue this yearly trend. The 3rd edition of the Antalya Diplomacy Forum is planned to take place on 28-30 April 2023.
The 3rd edition of #AntalyaDiplomacyForum will take place on 28-30 April 2023.

Save The Date, for #ADF2023 let's meet once again in Antalya.🗓#MEET4DIPLOMACY pic.twitter.com/Tb7Ud9wXvC

— Antalya Diplomacy Forum (@AntalyaDF) June 1, 2022
Role of Turkiye
Turkiye in the 21st century has developed into a regional and global middle power. It is a strategically important country that has developed the will and capacity to assert its own interests in the region and beyond.
In recent years, Turkiye has adopted a proactive foreign policy and sought a larger role in the regional security order.
Regions surrounding Turkiye are diverse and complex that offer different challenges and demand different responses. These regions include the Middle East, Eastern Mediterranean, Europe, The Southern Caucasus, and the Black Sea Region.
Turkiye's role in the international community has grown along with its soft and hard power. Turkiye is one of the strongest militaries in Europe. Moreover, Turkiye enjoys soft influence through its economy, tourism, and arts.
Turkish experience of being at the crossroads of different worlds and attempting to play the role of an active participant in those worlds has led it to value inclusive multi-stakeholder diplomacy.
Historically, Turkiye has been politically closer to the West. It became a part of NATO in 1952. It is also a member of the OECD, a largely Western-dominated economic cooperation organization. It has been participating in and shaped by the same institutions as major Western countries for a long time.
However, that changed in the 21st century, when Turkiye began shaping its separate national goals based on its own interests, which were no longer subservient to the larger Western needs.
Instead, Turkiye engaged in creating its own national path. For this, it has used military strength, diplomacy, and soft power around the world.
In this context, the Antalya Diplomacy Forum can be viewed as Turkiye's attempt to play a larger conciliatory and diplomatic role in the world.
Previously, Turkiye has been involved in regional initiatives to tackle pressing regional and international issues.
For instance, the Heart of Asia – Istanbul Process – a regional dialogue process founded in 2011 to address issues related to Afghanistan; and the Council of Turkic States, a regional organization to enhance integration between Turkiye and the post-Soviet Turkic states founded in 2009, are two examples.
Contributions of the Antalya Diplomacy Forum
Antalya Diplomacy Forum was inaugurated at a crucial moment. The world had witnessed a damaging globe-wide pandemic, and it was just beginning to heal itself.
The pandemic had not only affected the trade and contact between countries but also affected the international political scene as a whole.
The pandemic led to the rise in narrow, nationalistic, and protectionist policies by governments across the world. Political differences between nations began to increase.
In short, it was a time when dialogue and discussions were needed more than ever. Similarly, the second Antalya Diplomacy Forum was also organized at a time of great international upheaval.
Russia had invaded Ukraine – a state-to-state military conflict that was having huge repercussions for the regional security order, the international system, and specific issues such as food security.
Antalya Diplomacy Forum provided an avenue of dialogue for the warring parties (Russia and Ukraine) to seek a ceasefire.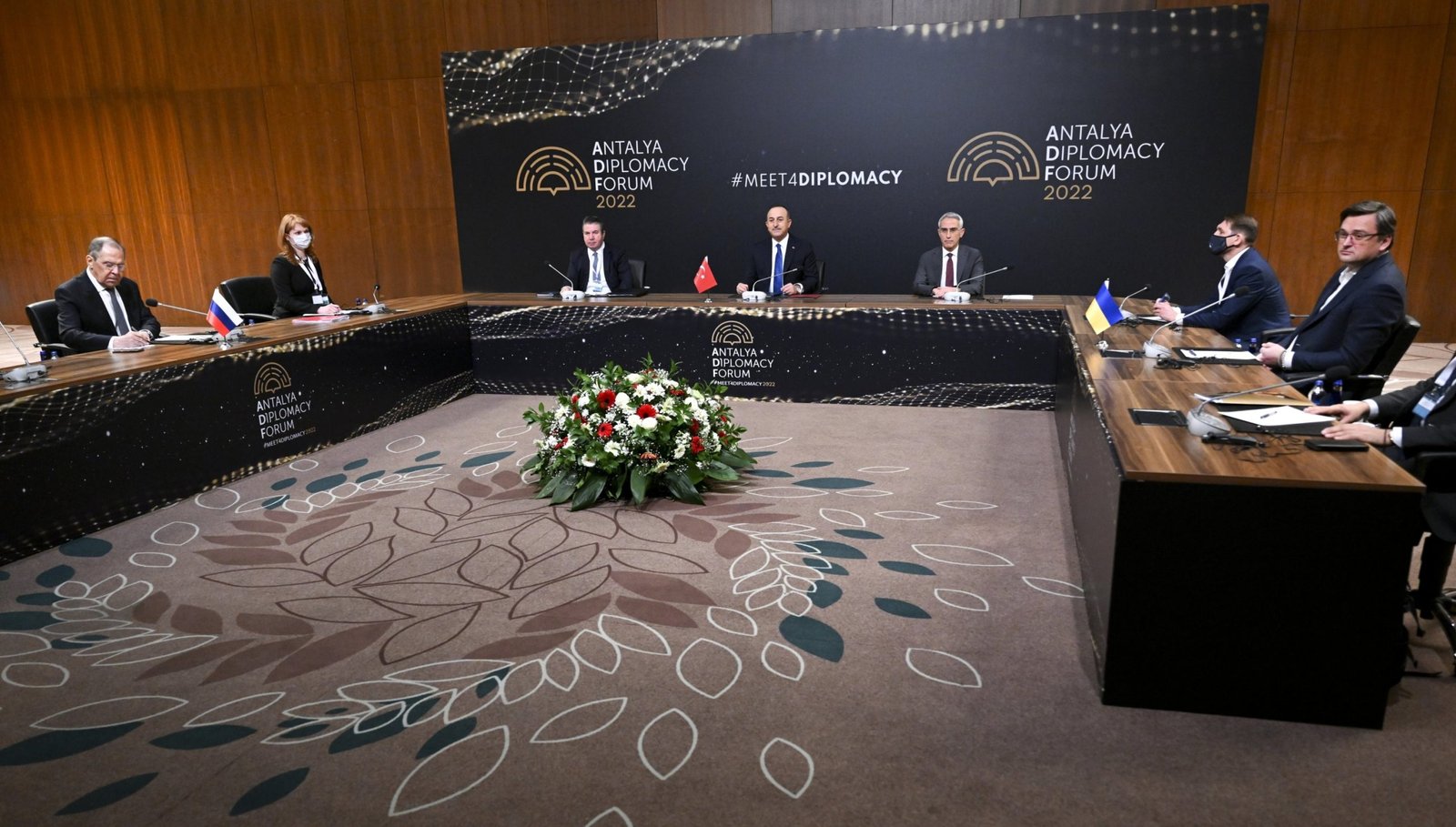 Although the discussions yielded no result, Turkiye's attempt to mediate through the forum was commendable at the time when major Western countries and organizations – including the US, the UK, the EU, and NATO – were ramping up escalatory rhetoric, providing arms supply to Ukraine, and imposing economic sanctions on Russia.
Both sessions contributed to small but necessary steps. The discussions on specific topics and themes not only provided academic and theoretic contributions but also led to practical steps.
The Antalya Diplomacy Forum succeeded in one of its most significant goals – to create an environment for dialogue and discussion and revive diplomacy as a central tenet of international relations in a world that seemed to shun diplomacy in favor of outright belligerence.
Promoting Diversity, Inclusivity, and Genuine Dialogue
Moreover, unlike similar Western-led forums and initiatives, the Antalya Diplomacy Forum was truly inclusive and diverse.
Western-based diplomacy and dialogue forums are notorious for being exclusionary. That is, the organizers exclude the participation of officials from governments and organizations with whom they have disagreements.
Hence avoiding difficult but much-needed conversations to promote an image of harmony and one-mindedness of the world under their priorities.
For instance, the governments of countries like Cuba, Venezuela, Iran, and now Russia, are often excluded from Western-led summits and forums due to political disagreements.
The recently-held Summit of the Americas is one such example, where the US excluded the participation of Venezuela, Cuba, and Nicaragua due to their political feuds with their governments, despite protests from other major regional countries.
However, Venezuelan and EU officials held fruitful discussions to resolve some of their issues at the Antalya Diplomacy Forum. This was a major step in EU-Venezuela relations since the Venezuelan Presidential Crisis.
Similarly, through the forum, Turkiye attempted to broker a truce between Russia and Ukraine. Although diplomacy sometimes fails, it remains a better option than financial and political coercion measures generally preferred by the West.
The interactions and discussions at the Antalya Forum have had a positive impact on the diplomatic outlook of the world.
Antalya Diplomacy Forum is proof of a growing multi-polar and multi-actor international order. The times when a few major powers dominated the political, economic, and security aspects of international life are over.
Middle powers and smaller countries are playing an increasingly larger role in the international security order.
Unlike the hegemonic stability of uni-polar and bi-polar world orders, the stability and proper working of a multi-polar world order depend on extensive diplomacy and multi-layered interaction among the states and influential non-state actors.
In this context, the significance of the Antalya Diplomacy Forum and similar initiatives for the stability of the global order will only increase with time.